Milk It For All It's Worth  – IRFU & NDC Nutrition Seminar in Limerick for Coaches

An interactive workshop to provide coaches of young rugby players with up-to-date sports nutritional information took place in Thomond Park Stadium in Limerick on 18th January 2012.  Organised jointly by the IRFU & The National Dairy Council as part of the Milk it For All It's Worth campaign, it set out to up-skill coaches working with players ranging from about 12 – 16 years of age, providing practical nutritional advice which can help to improve sports performance to the best of each young person's ability.  Performance Nutritionists, who work with professional rugby players and understand the nutrition demands specifically for rugby, delivered the technical content of the workshop.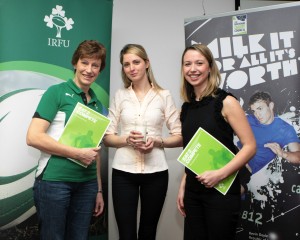 Pictured at the NDC & IRFU Milk it For All It's Worth Seminar were (L-R): Ruth Wood-Martin, IRFU Performance Nutritionist; Dr. Catherine Logan, Nutrition Manager, The National Dairy Council & Emma McCrudden, Performance Nutritionist.
Picture by Brian Gavin, Press 22