SANTANA FILM BAGS 2ND GRAMMY NOMINATION FOR SPLINTER
Splinter Films nominated for Latin Grammy Award
Nick Wickham (Director) and Ireland's Emer Patten (Producer) of Splinter Films, have been nominated for a Grammy at the 2014 Latin Grammy Awards. The nomination in the Best Long Form Video category is for their production entitled Santana "Corazón: Live from Mexico – Live It To Believe It" (Sony Music/RCA Records/Splinter Films).
The Grammy Award winners will be announced on Thursday November 20th, 2014, in Las Vegas. Nick Wickham and Emer Patten will travel to the USA to attend the prestigious event.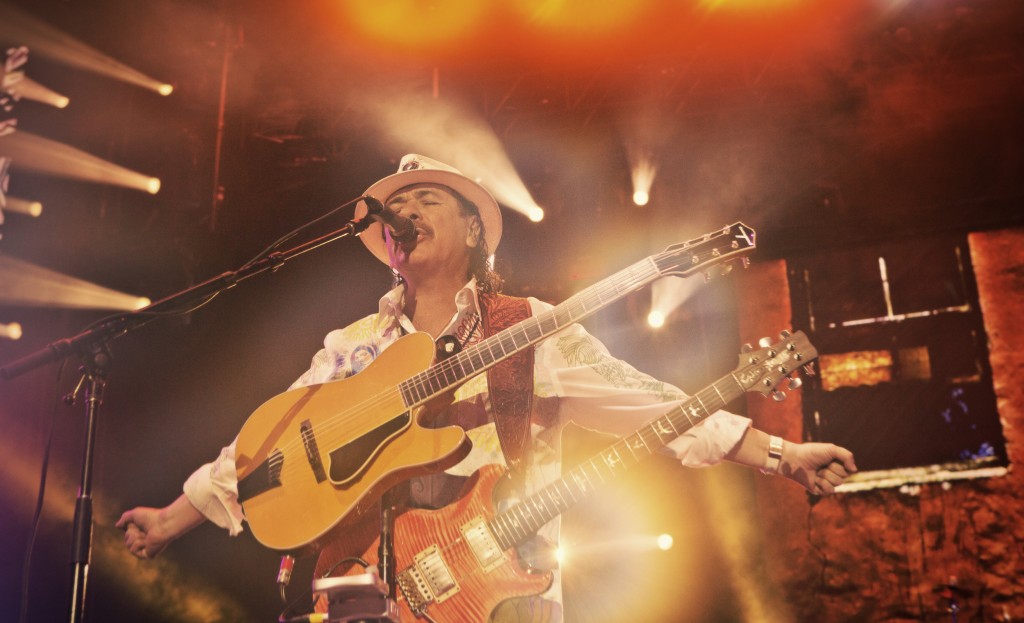 This the second time that Nick Wickham and Emer Patten have received a Latin Grammy nomination, having been nominated in 2012 for their work with Shakira "En Vivo Desde Paris (Live From Paris)" also in the Best Long Form Video category. Their work with Shakira was one of several collaborations with Sony Music and the Columbian megastar and followed the past, platinum selling "Shakira: Oral Fixation Tour" (2006).
Santana: Corazón, the subject of this year's Grammy nomination, features many of the artists who collaborated with Carlos Santana on the album of the same name. The film features a one-off concert performance with special guest appearances by the cream of Latino talent including Elan Atias, Chocquibtown, Lila Downs, Gloria Estefan, Juanes, Miguel, Fher Olvera (of Mana), Niña Pastori, Samuel Rosa (of Skank), Cindy Blackman Santana, Salvador Santana, Romeo Santos, Soledad, and Diego Torres.
Initially Splinter's film was created for the first ever simulcast between HBO Latino and HBO Latin America, reaching a potential Latino audience of over 200 million viewers.
Dublin-born DCU graduate, Emer Patten said: "It really is an honour for our film to be recognised with this Latin Grammy nomination. It was such a pleasure to work with Carlos Santana, who is genuinely an absolute legend. The music we got to work with was superb and it was a huge privilege to capture the musical performances with the guest artists; and also to collect their thoughts and feelings about working with the Maestro Santana. We hope that all that love and respect comes across in our film, as that was fully our intention."
"It was also wonderful to be able to shoot the film in stunning locations in Puerto Vallarta and Nayarit in Mexico – very close to where Carlos Santana was born. It formed a naturally beautiful physical and cultural backdrop to our story."
Established in 1997, London-based production company Splinter Films have spent the last 17 years specializing in producing live concert films and live events with clients that include Madonna, Metallica, Red Hot Chili Peppers, Foo Fighters, Rihanna, Beyoncé and many more.
Splinter Films' 3D concert film production for "Katy Perry – Part Of Me (3D)" was recognised with the Best Motion Picture Live Event award at the 2013 International 3D Society Awards.
Splinter Films continue to push the boundaries in a niche market and they are currently in post-production on a music feature documentary for the Chinese market for cinema release in Autumn 2015.
Visit Santana:
http://www.santana.com/News-Articles/1070/
ENDS
Date: 14th November, 2014
Notes:
– More information and examples of Splinter Films' work can be found their website. http://www.splinterfilms.com
-Link to 2012 Splinter Films' Grammy nominated video "Shakira: En Vivo Desde Paris (Live From Paris)"
Trailer:

Video: (not for publication, for reference only) http://splinterfilms.spotbox.tv/1747/
– 2014 Nominees: Latin Grammy Awards http://www.latingrammy.com/en/nominees
The Splinter Films/Santana nomination is in the Musical Video (Best Long Form Video) category.
For more information please contact:
Jamie Silk
M: +44 7801 541 591
Jamie@splinterfilms.com
Facebook & Twitter
http://www.facebook.com/splinterfilms
http://twitter.com/splinterfilms
Issued by:
Antonina Ni Dhuinn, Progress Communications
Tel: 087 2653 683
Nina@progresspr.ie