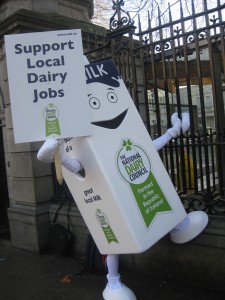 We're behind our local dairy farmers – are you ?
The new animated carton of milk from the National Dairy Council made his first public appearance at the entrance to the Dail, to canvass public support for local jobs in dairies and on dairy farms.
The animated character is the latest addition to the NDC's advertising campaign to build support for the 'Farmed in the Republic of Ireland' packaging mark on milk and cream. The NDC mark can only appear under licence on milk and cream which has been both farmed and processed in the Republic of Ireland. This gives consumers in the Republic of Ireland the assurance that they are supporting 4,676 local jobs in dairy co-operatives and on dairy farms, when they buy milk or cream which has the mark on the pack.
The creation of the NDC's carton character will extend and compliment a campaign already well publicised by rugby giant Paul O'Connell.
1st  February 2011, Picture by A. Ni Dhuinn