Sports coaches, personal trainers, fitness professionals, PE teachers and health professionals were amongst the delegates at a seminar in October 2010 to explore nutrition for athletes and the relationship between sport and dairy, sponsored by the National Dairy Council and held in Dublin.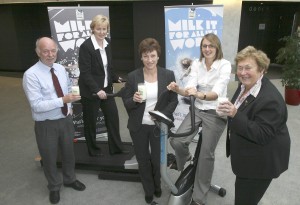 Pictured were speaking at the NDC Seminar, including – Professor Ron Maughan, School of Sport, Exercise and Health Sciences, Loughborough University; Helen Brophy, Chief Executive, National Dairy Council;  Ruth Wood-Martin, Performance Nutritionist for the Irish Rugby Football Union (IRFU); Emma Cockburn, Department of Sport Development, Management & Coaching, at Northumbria University; and Professor Moira O'Brien, Irish Osteoporosis Society who has a long association with athletes having acted as doctor for the Irish squad for 3 Olympic games from 1979 to 1988 and through her work with Olympic athletes at the Human Performance Lab in TCD until 2007.
The seminar was organised by the NDC as part of the "Milk In Action" programme, co-funded by the European Union, The Department of Agriculture Food & The Marine, and by the industry with funds raised through NDC members in the Republic of Ireland.
October, 2010, Picture by Fennell Photography